Welcome to

PALO VERDE PARK NEIGHBORHOOD
Thousands of neighbors. Hundreds of businesses and organizations. One community.
Announcement:

 

Park Fest returns to Palo Verde Park on Sunday March 26th from 2-6pm! Don't miss three stages of live music plus a neighborhood jam session. Park Fest is a free family-friendly event.



Upcoming Meetings & Events
Sun. March 26th  – 2-6pm
Park Fest! Free music in the Park 2-6pm @ Palo Verde Park
Park Fest 2023
In partnership with Tucson's Ward 2 Office, Palo Verde Park Neighborhood is bringing Park Fest back to Palo Verde Park! Join us for a free community music event on Sunday March 26th from 2-6pm!
Inspired by Tucson Porch Fest, Park Fest is a family-friendly event celebrating local musicians. Enjoy our neighborhood park and stroll from stage to stage to catch all 10 acts. Please bring your own seating. Have an instrument you love to play? Help us close out the event in the neighborhood jam session from 5:15-6pm!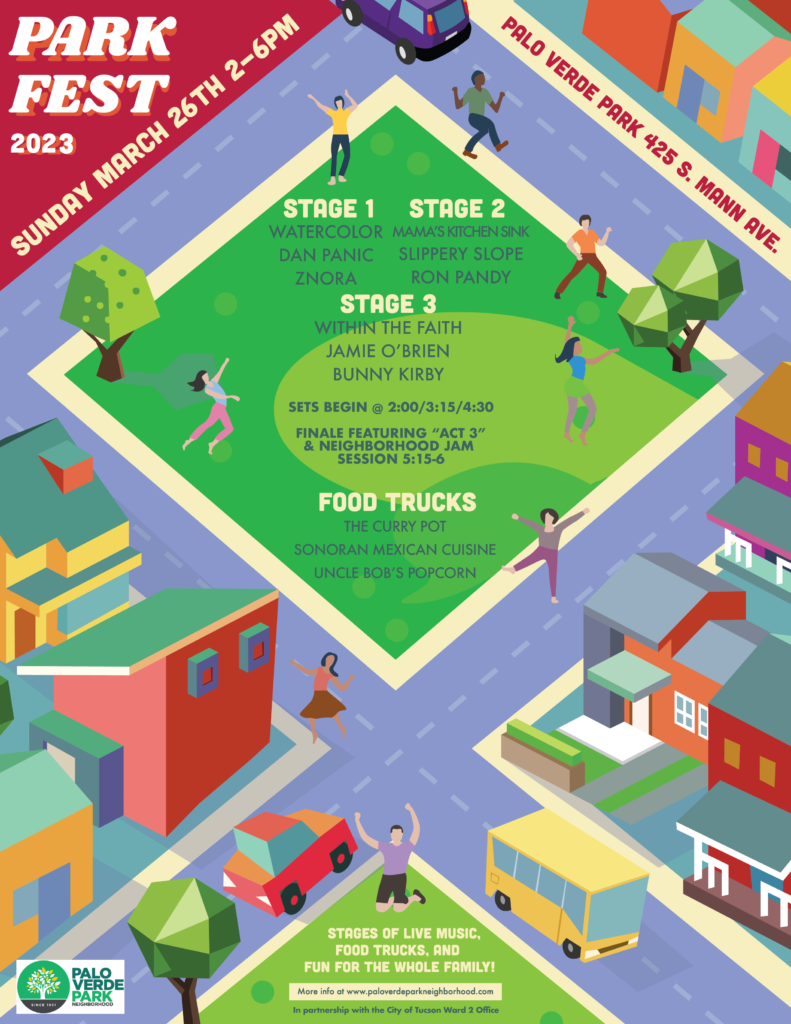 About the Palo Verde Park
Neighborhood Association
The Palo Verde Park Neighborhood Association was founded in 2018 by midtown neighbors seeking to build a stronger community through civic engagement, collaboration and connection. Our neighborhood, which spans an area from Broadway Blvd. to 22nd St., and from Kolb Road to Wilmot Road, is comprised of six subdivisions: Riviera Estates, Old Pueblo Estates, Manana Vista, Yale Estates, Miramonte Terrace, and Glen Heather Estates.
Our neighborhood draws its name from Palo Verde Park, which is the central core and heartbeat of the neighborhood. It reflects the importance we place on qualify of life, from our ability to interact with nature to our ability to interact with one another in a shared space.